Why choose Cabinet Tronix
After 13 years, one original idea still drives us today-produce high-quality, beautiful furniture that hides flat screens with TV lift kits.
PROJECT DISCOVERY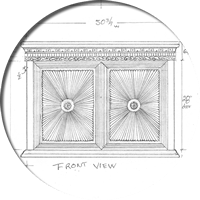 Designs are created based on your answers and information
PROJECT CREATION
Furniture built to your specifications
FINISHING TOUCHES
Finished applied, TV lift and electronics installed & then shipped directly into your home!
3 SIMPLE STEPS TO PERFECTLY CRAFTED QUALITY
Other Cabinet Selection
VIEW OUR
OTHER TV LIFT CABINET SYSTEMS ➧

TVs 37″ to 65″
See 13 Models >

TVs 37″ to 65″
See 12 Models >
What Cabinet-Tronix Client's Say
We have had the pleasure of working with Cabinet tronix for several years, and have always been extremely pleased with the quality of their product, the professionalism by their staff, their willingness to assist in specifications, and the overall experience afforded by Cabinet tronix. Trace, the owner, has always been available for support and ready to answer any concerns we may have. I truly appreciate the value of their products, and support they offer during our installations. I would highly recommend Cabinetronix for anyone looking for a very custom look, without the ordinary custom process.
— Anthony Michael Interior Design, Ltd.
After searching for a TV lift for many days we discovered much repetition and "same old" ideas – we then discovered Cabinet Tronix! They impressed by displaying innovative designs and many selections of TV lifts above and beyond their competition and also provided custom capability which we were seeking at the time.
Traveling abroad often and being attracted to the European motif, we set out on an aggressive remodel of our home with that theme and needed a signature piece – and boy did Cabinet Tronix deliver! Guests to our home immediately gravitate to our piece, rave of its beauty and ask where we found it as it's so unique it looks like an antique piece. I think there's even a little jealousy involved if I were to guess :).
The fact that this beautiful piece of furniture is also a functional TV lift is an added benefit. We hide our TV prior to guests arriving which only heightens the awareness of the piece itself as the appliance is removed from the equation.
I would hire this company for a furniture build alone even without a TV lift…that's how impressed we are with the quality of workmanship that was used on this piece.
If you're in the market for a TV lift don't look anywhere else because you won't find anything better!
— Rose Flitz
"Cabinet-Tronix is "THE" top of the line specialized cabinet manufacture. They have provided high quality "pop up" cabinets as a main source for our company. Their finishes are always on point whether it be a custom or standard finish. Cabinet-tronix is a pleasure to deal with and always ship the product in the time expected. They keep us worry free and our clients happy.
— Audio Command – Mike Pittman – the largest Audio Video Revenue Company seven years straight
Impeccably customized
When our interior designer needed a unique solution for a hi-tech media room makeover, Trace McCullough and his team at Cabinet Tronix offered a complete and ideal TV lift cabinet system that met our needs aesthetically and functionally. We put difficult demands on Cabinet Tronix, and they came through with the bespoke design we needed to make our project a success, and in fact, the lift TV cabinet was a centerpiece of the room.
Our challenge was that we needed to preserve a wall of the room for projection screening while also featuring a large screen TV in the room, but we did not want to mount a TV on the wall. Trace and his cabinet crafters walked us through our options and the design process, and they accommodated all of our special requests. The unit they designed incorporated elements of several of their systems that we liked, and they seamlessly integrated a designer fabric we selected for the façade, tying together the overall look and the technical requirements of the project, including a hidden compartment and outlets for a variety of electronic peripherals.
Cabinet Tronix accommodated our specific space limitations and our requests for customization and finishing touches that complemented other furnishings in the space. The result was a perfectly blended, beautiful show piece that suited the technical and practical needs of the design. The lift worked with a touch of a button and quietly and smoothly. When the television was not in use, it was discreetly hidden away.
The customer service at Cabinet Tronix was exceptional, and the process was simplified and convenient because the company handled all elements of the design and production in-house, creating the perfect space for enjoying a multimedia experience.
We highly recommend Cabinet Tronix as the premier designer and manufacturer of television lift cabinets. Their quality craftsmanship and professionalism were superb, and it was a pleasure to collaborate with their team.
— K. Pearson Brown.
This is the first review I have ever written, and I am only doing so because I have had the most wonderful experience dealing with Trace and his team at Cabinet Tronix.
I live in Florida and am renovating my personal home. I design and build very high end custom kitchens and cabinetry and I decided to purchase a TV lift cabinet. After extensive research, I discovered Trace. He is by far the most knowledgeable person I have met as to the intricacies of the TV lift mechanisms available and the pitfalls and benefits of every supplier and component. Knowing the custom cabinetry industry so well, I felt the only way to determine if Trace was indeed a high end manufacturer was to visit his factory.
My wife and I flew out for a night and were so impressed, that we ordered on the spot. The quality of workmanship was superb, and seeing the various other projects Trace had going clinched the deal. Each piece that Trace was building was unique and superbly constructed, and finished beautifully. It was obvious that Trace and his people were perfectionists.
Equally impressive was the manner in which we were treated from start to finish. Trace and his team truly understand how to treat a customer, and understand the emotional factors involved in making a large purchase of a custom product. Their communication was exceptional throughout the process, and the information flow from them was timely, informative, clear and concise., and as a result, our delivery and installation was a breeze.
One has many options when purchasing custom products, and we are all aware of the horror stories that others have suffered. Have no fear, if you order from Trace, you will get far more than what you pay for and you will have peace of mind in knowing that Trace and his team will never let anything leave their factory in a condition other than superb. You will be so very happy, I am certain.
— Barry